The North Dakota House of Representatives has passed the first personhood amendment in the United States, 57-35. Read more
Personhood USA, The First Year In Review.
Submitted by Keith on Wednesday, November 4, 2009
in
(Download a print copy of this year in review. 9MB)
A Note From Keith Mason…
"What can we do to help?!?"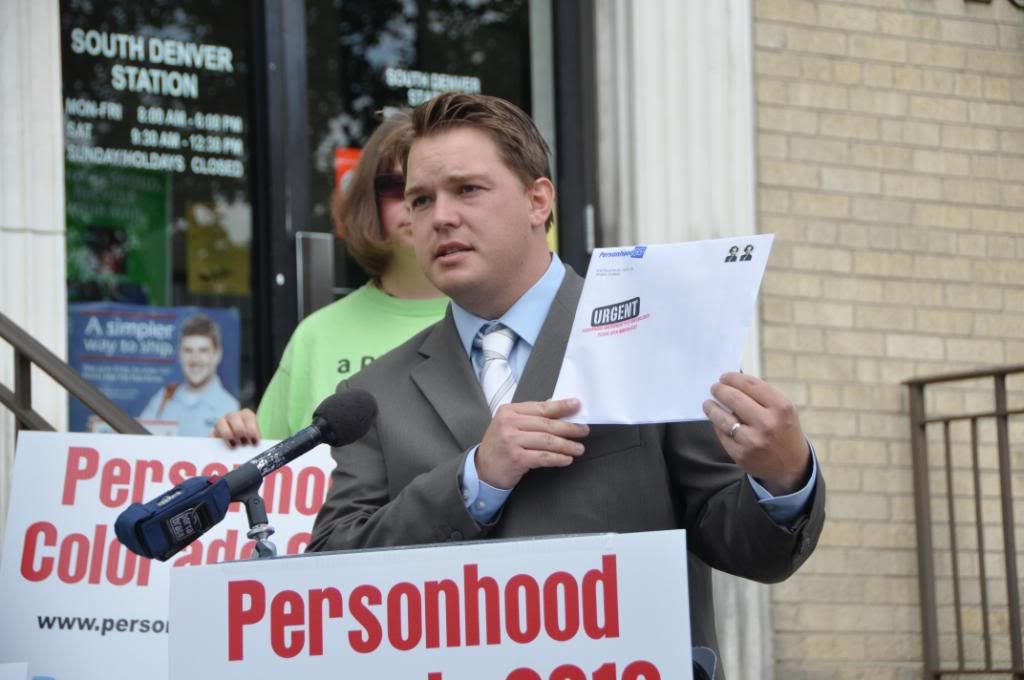 This is the first question that many pro-life groups, individuals, and legislators have heard when they have contacted us with a desire to affirm the personhood rights of the pre- born. I know this attitude of service has been a blessing to many, and to all of us at Personhood USA as well.
In one short year so much has happened, far more than I had even imagined could happen to further the effort to affirm the God-given right to life for all humans. God has touched the hearts of so many that this has all the makings of a movement. Our desire is to labor tirelessly to serve all we can who answer God's call to protect His little ones.
As the Lord provides, we hope to continue to serve and fight for the personhood rights of ALL humans – old or young, big or small. My prayer is that we will see these efforts that have been started this year grow, and that God would raise up more like you and I to love our little neighbors and protect them.
As we have just begun to utilize the infinite educational opportunities that we have with these Personhood Campaigns, I look forward to partnering with you and ending this culture of death in America.
In His Service,
Keith Mason
Co Founder Personhood USA
---
A Note From Cal Zastrow…
GLORY TO GOD!!!


From Bismarck to Baltimore, from California to Florida, my whole family and I have been petitioning and promoting personhood to thousands of people.
Most of this year, we have been petitioning in Mississippi, one of the most pro-life states.
Pro-lifers are demanding personhood, NOW! The vision (and actions) to protect all babies is spreading like wildfire.
I am shouting REVIVAL all the way!!!
Cal Zastrow
Gallup Polls Prove that Personhood is working to change America
Personhood is changing the way Americans view abortion.
In the past year, Time, Newsweek, US News and World Report, The Los Angeles Times, The Chicago Tribune, The Associated Press, The Denver Post, the Boston Globe and countless television networks have all discussed the idea that humans should have equal rights from the beginning of their biological development.

What's more, they have been forced to discuss it not just as a hypothetical, but as a real possibility, because people around the country are actually – for the first time in decades – boldly fighting for what they believe in: equal rights for all innocent human beings regardless of their stage of development.
If one were to mount an advertising campaign to put this message across in these publications, the cost would be astronomical.
Yet a small grass roots movement with almost no political, government, or corporate support has been able to effectively educate tens of millions of Americans and put pro-lifers back in the driver's seat.
The effect of the grass roots personhood movement is tangible.
In a recent well- publicized Gallup poll, Americans considered themselves for the first time, more pro-life than pro-choice. What changed from 2007 to 2009?
The yearly murder of over a million innocent children in the womb went unmentioned at any of the presidential debates or political events. So why did people change their mind so dramatically in only one year?
The answer is clearly discernible from the actual figures of the Gallup poll: while the number of Americans who believe that abortion should be allowed in some situations actually climbed one percent, from 52% to 53%, the number of Americans who believe that abortions should never be allowed climbed dramatically from 17% to 23%; at the same time the percentage of Americans who believe that abortions should always be allowed declined from 28% to 22%.
These statistics corroborate what everyone already knows: when a movement is true to it's founding principles, it is able to communicate those principles and change people's hearts and minds. When the movement compromises its principles, it fails.
By Gualberto Garcia Jones J.D.
---
Personhood USA is leading the charge of the Personhood Movement, Please help us push forward with you donation today !
---
PERSONHOOD

EFFORTS
2009

REVIEW

As our first year as an organization draws to a close, it is time to examine the goals we set on November 5, 2008. Did we accomplish our goals? Have we stayed on course? While there is still much to be done, reviewing our past year's activity has made me confident in all that God has accomplished through PersonhoodUSA. In one year, PersonhoodUSA has built an unrivaled nationwide grassroots coalition. In one year, PersonhoodUSA has helped to launch Personhood movements in 32 states. Let's take a closer look, state by state, at some of what has happened in 2009.
For the first time in U.S. History, a personhood bill passed a legislative body. Legislative Assembly House Bill No. 1572, introduced by Representative Dan Ruby, passed the House and was only 8 votes short in the Senate
So many volunteers contacted their State Representatives and Senators that the legislative switchboard was shut down with thousands of phone calls from Personhood supporters.
New life was breathed into the pro-life movement in North Dakota. Personhood

USA

helped to gather names and organize volunteers to the tune of 5000 willing pro-lifers.
They are ready for round two in the beginning of 2010!
To: Personhood USA
_I want to thank you for your help in passing North Dakota House Bill 1572, The Personhood Bill, in the House of Representatives.
This bill in our estimation was the most comprehensive pro-life bill ever to pass a House of Representatives in the nation. It was a states rights bill in that it interpreted the ND Constitution to include the unborn as protected persons – no exceptions. And it applied this interpretation to all of the laws of the state of ND.
We didn't quite make it in the Senate but we made a very strong positive impression on the Senators. They are now taking North Dakota Life League serious. Personhood USA's help really made a huge impact in the state and gave NDLL a renewed credibility that has carried over into the interim and we are expecting great things during the next session. The pro-lifers all across the state were invigorated with hope and we look forward to working with Personhood USA during the interim and through the next session in January 2011.
Thank you again for your help and assistance!_

Tim Lindgren State Director North Dakota Life League
We began in Montana with a 2008 petition drive. With a limited time frame, we began the process and built the momentum for 2009.
SB406, introduced by State Senator Daniel W. McGee, passed the senate and got a majority vote in the house. Although we needed a super majority and didn't pass, we created enough momentum to relaunch in July. Montana is going strong 2010!
Signatures are being gathered once again for 2010. Montanans have adopted the attitude that they will not rest until every child is protected by love and by law.
Dear Keith and Cal:
As representatives and cofounders of Personhood USA, you have been a dramatic help to our state personhood initiative. For one thing, our former House Representative Rick Jore, who brought personhood to Montana, got his inspiration from your organization.
Your assistance with ideas about contacting churches, setting up news conferences and press releases, providing us with written and video resources, encouragement and prayers—these things have proved to be of immeasurable value.
Though every state has different laws, circumstances, and cultural milieu, the process of legally affirming personhood remains very similar. Because of you, we don't have to invent the wheel. Your combination of uncompromised standards, enthusiasm, dogged determination, and faith is moving mountains.
Thank-you from the bottom of my heart!
Blessings!
Annie Bukacek MD President, Montana Prolife Coalition
Oregon
Signatures have been gathered for a Personhood Amendment, Catholic Bishop Vasa came out in public support for the effort.
In 2009, we began collecting signatures for the 2011 ballot. Momentum is building in this pro-life state as we have over half of the signatures already collected.
In 2009, we began collecting signatures for the 2010 ballot. 618,000 folks voted to affirm personhood in 2008, our goal is to increase that number.
In the past year, Florida's Personhood movement has grown by leaps and bounds. An infrastructure for an effective grassroots Personhood campaign has been built, and volunteers began gathering signatures.
An incredible coalition has been built in just a few short months. They even have over 16,000 followers on Twitter .
PersonhoodFL would not exist without PersonhoodUSA. Keith Mason, Gaube Jones and Cal Zastrow have worked tirelessly to encourage, train and equip us. It has been such a blessing, after 25 years of activity, to finally feel like we are making forward progress. Pro-life veterans are coming out of the woodwork to take their leadership positions to establish personhood for the pre-born, the elderly and the disabled.

I believe the very future of this nation depends on how effectively we are able to reach the hearts and minds of the people of this nation with the Personhood message. It is worth our focus and all our resources to rescue those unjustly sentenced to death or very soon we will find ourselves unjustly sentenced to death. This movement must continue to grow. I have never had more faith and courage.

Mrs. Brenda MacMenamin
PersonhoodFL.com
Nevada
In 2009, a committee was formed and Personhood language was submitted to the Secretary of State in October.
On September 28th, 2009, language was submitted to the Secretary of State's office.
Sponsors Walter Hoye , Lila Rose, Leo Severino and Jason Jones are gearing up for an intense fight, but one that will educate millions!
New Mexico
In July, PersonhoodUSA directors met with legislators, who are now working on a bill for 2010.
Alabama
In 2009, legislators began working on a Personhood Bill for 2010, SB-335 by Sen. Hank Erwin.
In 2009, Georgia Right to Life worked extremely hard, headed up all efforts,
Delegate Don Dwyer introduced the Maryland Personhood Amendment HB925, and had more co-sponsors than any other state this year.
A grassroots team was built that is meeting regularly.
In 2009 H.3526 was introduced by Rep. Liston Barfield. And S.450 was introduced by Sen. Lee Bright
In October of 2009, five Democrats in the State House of Representatives introduced the Michigan Personhood Amendment. Eighteen Republicans are co-sponsoring as well. The commitment of these State Legislators to protect all children instead of just some is superior.
---
Personhood USA is leading the charge of the Personhood Movement, Please help us push forward with you donation today !
---
Hawaii
Legislators have contacted Personhood

USA

for help.
Plans have been made to introduce this Personhood Bill in January 2010.
In 2009, Personhood Language was submitted, and a petition drive began in October.
PersonhoodUSA worked with Alaska Right to Life and began petition in November 2009.
In 2009, committees were also formed in: Louisiana, Oklahoma, Pennsylvania, Kansas, West Virginia, Indiana, Kentucky, Idaho, Arkansas, Massachusetts, New York, Virginia and Tennessee to start Personhood efforts in their State, praise God!!!!
WHAT

IS NEXT?

In 2010, we believe pro-life people like you and I will have one of the best opportunities to educate and win public opinion to the pro-life side.

Think about one volunteer in one campaign: because there is a personhood effort in their State, they become active. Most volunteers who gather signatures get into conversations and confront hundreds with the undeniable fact that the preborn humans are people with rights.

Think of the impact of just one volunteer on the community around them. We have seen this impact and it is tremendous!
Thousands of pro-life ambassadors will take to the streets in 2010 to advocate for life – reaching millions! And if these Personhood efforts were not taking place, it is likely that many of these volunteers would sadly stay home or get busy with life and not talk much about the issue.

Now that many of these efforts have begun, we must capitalize on the opportunity to educate.
We hope that these combined efforts will raise 30 Million dollars or more to greatly impact the nation towards the culture of life!

With all of these efforts, our goal is to spend as little as possible on the political side and as much as possible on educating people locally.

This helps to build grassroots coalitions in different states which will be utilized until we end the dehumanization of preborn babies in America!
We pray that we can partner with you to make a change in America towards a culture of life.

The Personhood USA Team